Adventurer, world traveler, humble servant, visionary—those are the words that describe Mark Bloomfield, the man who discovered the Sacred Heart Sisters and their work in the remote regions of Bihar. Without Mark there would be no FreeSchools World Literacy. Here is a short biography of Mark that Sue Tennant, the founder of FSWL-Canada.
by Sue Tennant (2005)
---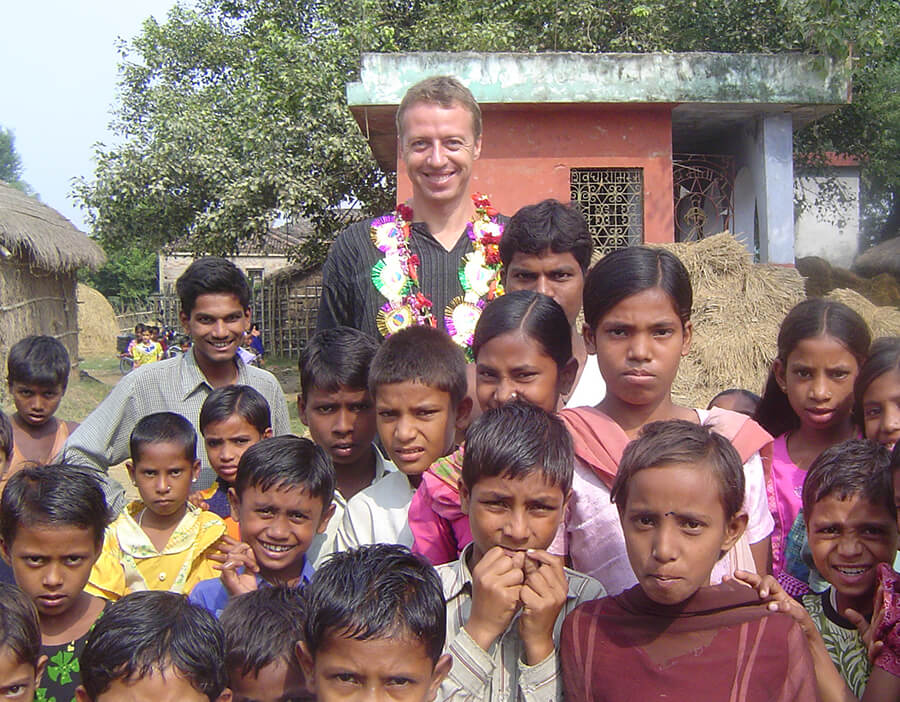 ---
MARK BLOOMFIELD was born to privilege in Stratford-on-Avon but left family and England at seventeen to travel the world.
Mark relishes speed and adventure.
In the early 1990s, he worked as a volunteer bush pilot in the Selous Game Reserve in Tanzania to help protect 60,000 elephants from ivory poachers. As an engineer of experimental aircraft and a certified flight instructor, Mark thrilled at Tanzania's adventurous low-flying flight paths, but he could not shake the haunting memories of atrocious human suffering that he'd seen years before in Calcutta. India beckoned his return.
Working with Mother Teresa's Missionaries of Charity
In 1994, he knocked on the door of Mother Teresa's Missionaries of Charity (MC) to see if he could help. Welcomed into the inner courtyard of the MC Mother House in the guts of Calcutta, his offer was gladly accepted and he was assigned to work the next morning in "Prem Dan," MC's home for mentally ill destitutes in the Park Circus area.
Several weeks later, he was moved across to 'Kalighat', an old converted Hindu temple in the southern suburbs, and Mother Teresa's original home for dying destitutes. Working under a dear old sister named Dolores, he ended his first voluntary period a couple of months later as the undertaker. In addition to nursing the dying, Mark dispatched the dead to either the burning ghats or, if they were Christian, to shallow graves atop older graves in Tollygunge Cemetery. Each morning he faced an additional task. On the steps of the Mother House was always a pile of murdered female baby corpses also waiting to be burned. These bundles of discarded life had either been withheld food or their tiny spines were snapped at birth for not being male.
Establishing "Eye Camps"
It was during his second period of voluntary work at Kalighat the following year that he started to notice that a number of patients were blinded by cataracts that a simple and inexpensive operation could have removed. Obtaining permission from the MC sisters to escort cataract patients to a local charitable eye hospital, he started the slow change of direction that later culminated in an extraordinary personal initiative.
In remote parts of rural India where the poverty is so devastating, Mark solicited the support of local Indian eye surgeons willing to perform the 15-minute surgeries to masses of destitutes over three days. The cost of the surgery was beyond the patients' reach, but with money earned from flight instruction, Mark began to organize huge eye camps, assembling hundreds of patients at a time. For several years thereafter, he'd bring his savings to India to organize an annual free "eye camp" culminating in another two or three hundred deliverances from the curse of curable blindness.
---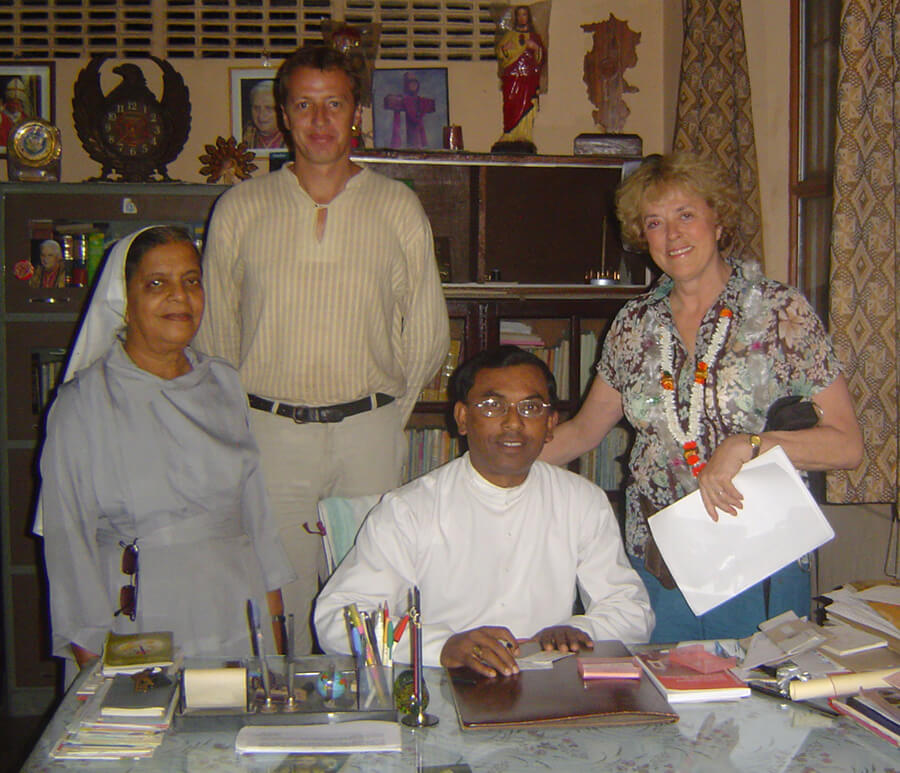 ---
The Free School – A Dream Becomes Reality
While sitting in the corridor of the Calcutta eye hospital with a patient he'd escorted for treatment he struck up a fateful conversation with a kindly looking, nearly-blind Indian nun also waiting for a doctor. Her name was Sister Crescence and she spoke near-perfect English. Despite an incurable eye condition, she still ran her convent school each day as though she were in perfect health. Mark and Crescence hit it off and before they parted company they agreed that he should visit her at her convent school in the north of India. It meant traveling to the notoriously dangerous and backward state of Bihar to continue the conversation about new and creative ways to serve the disadvantaged.
Upon arrival at St. Mary's Convent School in Motihari, Bihar, some weeks later, Crescence wasted no time in sharing what was on her mind. For years she had been bothered that each afternoon her little boarding school on the edge of town would stand empty after the day's classes while the most impoverished children living nearby would receive no education at all. Their parents, living in tiny mud huts, were simply too poor to afford even the most modest convent school fees.
Crescence dreamed of winning such impoverished parents over to the idea of allowing just one willing daughter to attend a free school each afternoon after the normal school had finished when the classrooms would otherwise be empty. She went on to elaborate how the girls should be prioritized as most would receive no education at all, but in later life when each might become a mother, whatever they had learned at school would automatically be imparted to their children. Only one child from each family should be encouraged to attend with instructions to teach what she learned that day to her sisters and brothers.
A special concentrated syllabus of reading, writing, arithmetic, hygiene, useful crafts and income-generating skills such as sewing, as well as civics lessons, would be taught. But she emphasized the need for games, a chance for the children to just be children, and not child laborers, their normal daily lot. Retired, respected female ex-schoolteachers, themselves in desperate need of an income would be asked to run the classes in return for a fair and decent salary. All study materials as well as the lessons themselves and one small nutritious snack would be given each day without cost.
The only thing that was stopping Crescence and her few fellow nuns from realizing the dream was their lack of funds to cover the salary of the first teacher they needed to bring in, plus what little else they needed for books, pencils, etc. Emptying all the rupees stashed in his pockets on the table, Mark said, "Do it!"
From that time onward, the receipts, the thank-you letters, the photos have kept coming, and whenever Mark can manage to visit, the sight of the kids, (anywhere up to three hundred of them) is enough to make him weep with joy. Typically when he visits classes for a few minutes, the children sing him a song and mime for him, ending with a big cheer. Once they put a medal around his neck that they had made by hand from cardboard.
The last time he dropped in for a visit they were having their annual sports day. Crescence took him aside to speak about a money issue. Thinking she needed more, he was about to ask how much. Instead, she explained she was given twice what she actually needed last time, and could she give him the rest back? That brought Mark a chuckle. They did the math, and it worked out she was putting each girl through a whole year of life-changing education for a mere US$3. A full year of education for the price of a hamburger.
Today the school thrives and two new ones have been created. They are supported by donations from Mark's friends. Each donor receives his or her own letters, receipts and photos from Crescence herself, who still insists on writing even though she can hardly see the notepaper. One Australian friend by the name of Robert Coenraads even managed to visit the school together with Mark a few years back. He had to fight back the tears of joy that such a sight stirred in him. Needless to say, Robert continues his ardent support today.
Sister Crescence and her nuns do not proselytize. They equally welcome children from Hindu, Muslim and Christian families and support each child in their particular faith culture. There are a million villages in India alone and the free school model may be replicated an unlimited number of times wherever there is poverty, discrimination, misery and despair. The free school model might not offer a solid guarantee that each child will go on to rise to their full potential from the dark abyss of the cycle of ignorance, but it at least gives them a fighting chance where previously there was none.
---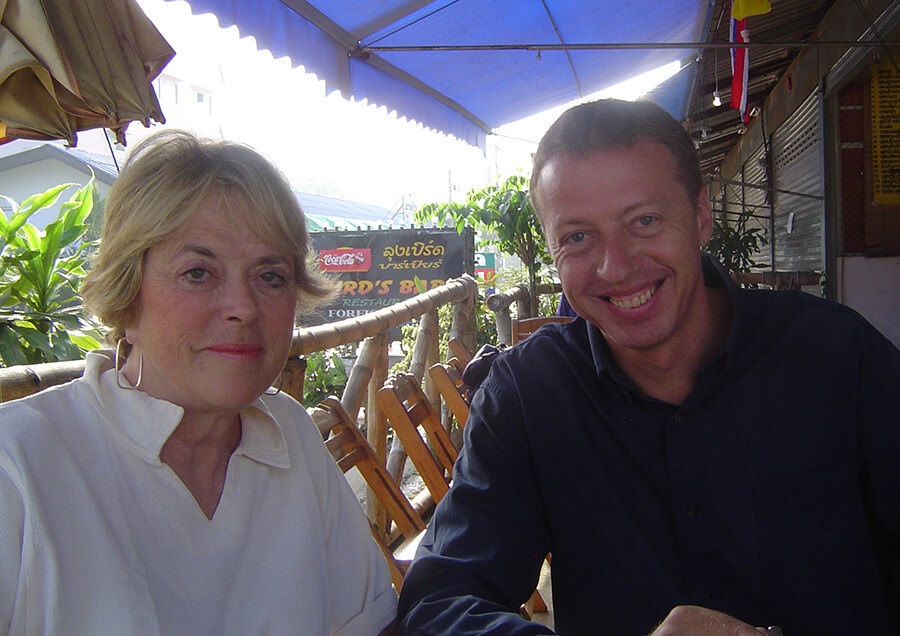 ---
Postscript: Sadly, both Sue Tennant and Mark Bloomfield have passed away—Sue in March 2018 and Mark in July 2019. We who are left to carry on their work honor their memory.